About Us
Bombay Brasserie is a Indian takeaway in Grantham. Why don't you try our Puri or Biryani?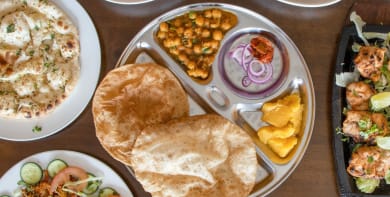 Reviews
329 reviews
Kelly
"We really appreciated that the food was delivered early, however we did have to blast it in the microwave as it was cold . But the food itself was delicious"
16/04/2021
Mr
"Just so tasty! Delivered early by very polite delivery chap. Great value."
15/04/2021
Hannah
"Delicious food and great service from delivery driver. Portions are big and got free saag aloo which was delicious- thanks!"
10/04/2021
Zoe
"Delicious food, delivered early and with care and fantastic prices!"
04/04/2021
Menu
Shabji Murg
Is a type of curry which involves frying marinated pieces of chicken & vegetables in oil & spices to produce a dry & thick sauce
£9.95
Murghi Kebab
Murghi kebab is a popular Afghan & Indian variety of kebab, made with chicken, chilli & herbs, also found in Pakistani cuisine. A variation of murghi kebab is found in Bangladeshi cuisine. They are also popular in Afghanistan & Azerbaijan
£9.95
Murgi Paneer
Pieces of chicken cooked with paneer (Indian cheese), Indian herbs & spices in a rich medium sauce
Medium
£9.95
Paneer Tikka Bhuna
Paneer tikka is a Punjabi dish. It is essentially made from paneer (cheese) tikka, which is served in a spiced sauce
£7.95
Gobi Chana
This dish is called gobi chana, aloo gobi is a dry Indian, Nepali & Pakistani cuisine dish made with chana, cauliflower & Indian spices
£7.95
Bombay Fish
Deliciously flavoured with a fresh collection of herbs & spices fried in vegetable oil & served on a hot sizzling pan
Hot
£9.95
Chana Gosht
Tender pieces of lamb cooked with chana (chickpeas), onions, garlic, green peppers & Indian herbs
£9.95
Chana Saag
Chana saag is also known as chickpeas spinach curry, sometimes pronounced as chana saag. Chana saag is a very healthy Indian traditional dish !!!
£7.95
Aloo Dum
Dum aloo is a very popular vegetarian dish from Kashmir, it is made from potatoes & eggs which are first deep fried, then cooked slowed at a low flame
£7.95
Vegetarian Set Meal for 2 People
2 popadoms & chutney
Aloo chaat & onion bhaji
Vegetable bhuna (main)
Vegetable korma (main)
Bomaby aloo (side dish)
Pilau rice OR naan
£22.50
Mixed Set Meal for 2 People
2 popadoms & chutney
Meat samosa & chicken pakora
Chicken tikka masala (main)
Lamb bhuna (main)
Bombay aloo (side dish)
Pilau rice OR naan
£25.50
Biryani Chicken
A rice based dish, cooked with any of the following in basmati rice, topped with an omelette & served with a separate vegetable sauce
£7.95
Biryani Chicken Tikka
A rice based dish, cooked with any of the following in basmati rice, topped with an omelette & served with a separate vegetable sauce
£8.95
Biryani Lamb
A rice based dish, cooked with any of the following in basmati rice, topped with an omelette & served with a separate vegetable sauce
£8.95
Biryani Lamb Tikka
A rice based dish, cooked with any of the following in basmati rice, topped with an omelette & served with a separate vegetable sauce
£9.95
Biryani Vegetable (V)
A rice based dish, cooked with any of the following in basmati rice, topped with an omelette & served with a separate vegetable sauce
£5.95
Biryani King Prawn
A rice based dish, cooked with any of the following in basmati rice, topped with an omelette & served with a separate vegetable sauce
£12.95
Chapatti
A disk of unleavened bread, ideal to dip into your choice of curry
£1.50
Pickle Tray
Mint sauce, mango chutney & onion salad
£1.50
Tandoori Roti
A large chapati baked in the tandoor
£1.75
J2O Orange & Passion Fruit
£2.95
Vegetable Paratha
A disk of unleavened bread filled with fresh vegetables, garnished with ghee & cooked on a cast iron plate
£2.25
Plain Paratha
A disk of unleavened bread, garnished with ghee
£1.95
Keema Paratha
A disk of unleavened bread, filled with minced lamb, garnished with ghee & cooked on cast iron plate
£2.25
Aloo Paratha
A disk of unleavened bread, filled with potato
£2.25
Balti Chicken
This dish is specially prepared. Richly seasoned & consisting of onion, peppers, garlic & ginger
£5.95
Balti Chicken Tikka
This dish is specially prepared. Richly seasoned & consisting of onion, peppers, garlic & ginger
£6.50
Balti King Prawn
This dish is specially prepared. Richly seasoned & consisting of onion, peppers, garlic & ginger
£9.95
Balti Lamb
This dish is specially prepared. Richly seasoned & consisting of onion, peppers, garlic & ginger
£6.95
Balti Lamb Tikka
This dish is specially prepared. Richly seasoned & consisting of onion, peppers, garlic & ginger
£7.50
Balti Vegetable (V)
This dish is specially prepared. Richly seasoned & consisting of onion, peppers, garlic & ginger
£4.95
Bhuna Chicken
A combination of spices & herbs fried together to provide a dish of medium strength. Has a thick consistency. Garnished with tomatoes
Medium
£5.95
Bhuna Chicken Tikka
A combination of spices & herbs fried together to provide a dish of medium strength. Has a thick consistency. Garnished with tomatoes
Medium
£6.50
Bhuna King Prawn
A combination of spices & herbs fried together to provide a dish of medium strength. Has a thick consistency. Garnished with tomatoes
Medium
£9.95
Bhuna Lamb
A combination of spices & herbs fried together to provide a dish of medium strength. Has a thick consistency. Garnished with tomatoes
Medium
£6.95
Bhuna Lamb Tikka
A combination of spices & herbs fried together to provide a dish of medium strength. Has a thick consistency. Garnished with tomatoes
Medium
£7.50
Bhuna Vegetable (V)
A combination of spices & herbs fried together to provide a dish of medium strength. Has a thick consistency. Garnished with tomatoes
Medium
£4.95
Ceylon Chicken
A hot curry sauce cooked with coconut powder Indian spices & herbs
Hot
£5.95
Ceylon Chicken Tikka
A hot curry sauce cooked with coconut powder Indian spices & herbs
Hot
£6.50
Ceylon King Prawn
A hot curry sauce cooked with coconut powder Indian spices & herbs
Hot
£9.95
Ceylon Lamb
A hot curry sauce cooked with coconut powder Indian spices & herbs
Hot
£6.95
Ceylon Lamb Tikka
A hot curry sauce cooked with coconut powder Indian spices & herbs
Hot
£7.50
Ceylon Vegetable (V)
A hot curry sauce cooked with coconut powder Indian spices & herbs
Hot
£4.95
Curry Chicken
Cooked with onions, peppers & garnished with fresh coriander
£5.95
Curry Chicken Tikka
Cooked with onions, peppers & garnished with fresh coriander
£6.50
Curry King Prawn
Cooked with onions, peppers & garnished with fresh coriander
£9.95
Curry Lamb
Cooked with onions, peppers & garnished with fresh coriander
£6.95
Curry Lamb Tikka
Cooked with onions, peppers & garnished with fresh coriander
£7.50
Curry Vegetable (V)
Cooked with onions, peppers & garnished with fresh coriander
£4.95
Dansak Chicken
A thick sauce cooked with lentils, contains chef`s fairly hot spices. Garnished with coriander
Hot
£5.95
Dansak Chicken Tikka
A thick sauce cooked with lentils, contains chef`s fairly hot spices. Garnished with coriander
Hot
£6.50
Dansak King Prawn
A thick sauce cooked with lentils, contains chef`s fairly hot spices. Garnished with coriander
Hot
£9.95
Dansak Lamb
A thick sauce cooked with lentils, contains chef`s fairly hot spices. Garnished with coriander
Hot
£6.95
Dansak Lamb Tikka
A thick sauce cooked with lentils, contains chef`s fairly hot spices. Garnished with coriander
Hot
£7.50
Dansak Vegetable (V)
A thick sauce cooked with lentils, contains chef`s fairly hot spices. Garnished with coriander
Hot
£4.95
Madras Chicken
A hot curry sauce cooked with Indian spices & herbs
Hot
£5.95
Madras Chicken Tikka
A hot curry sauce cooked with Indian spices & herbs
Hot
£6.50
Madras Lamb
A hot curry sauce cooked with Indian spices & herbs
Hot
£6.95
Madras Lamb Tikka
A hot curry sauce cooked with Indian spices & herbs
Hot
£7.50
Madras Vegetable (V)
A hot curry sauce cooked with Indian spices & herbs
Hot
£4.95
Malayan Chicken
A creamy curry, cooked with bananas
£5.95
Malayan Chicken Tikka
A creamy curry, cooked with bananas
£6.50
Malayan King Prawn
A creamy curry, cooked with bananas
£9.95
Malayan Lamb
A creamy curry, cooked with bananas
£6.95
Malayan Lamb Tikka
A creamy curry, cooked with bananas
£7.50
Malayan Vegetable (V)
A creamy curry, cooked with bananas
£4.95
Masala Chicken
This dish is delicately blended in a subtle steaming cream sauce, specially prepared with herbs & spices. Garnished with fresh cream
£5.95
Masala Chicken Tikka
This dish is delicately blended in a subtle steaming cream sauce, specially prepared with herbs & spices. Garnished with fresh cream
£6.50
Masala King Prawn
This dish is delicately blended in a subtle steaming cream sauce, specially prepared with herbs & spices. Garnished with fresh cream
£9.95
Masala Lamb
This dish is delicately blended in a subtle steaming cream sauce, specially prepared with herbs & spices. Garnished with fresh cream
£6.95
Masala Lamb Tikka
This dish is delicately blended in a subtle steaming cream sauce, specially prepared with herbs & spices. Garnished with fresh cream
£7.50
Masala Vegetable (V)
This dish is delicately blended in a subtle steaming cream sauce, specially prepared with herbs & spices. Garnished with fresh cream
£4.95
Chilli Masala Chicken
This hot dish contains chef`s hot spices & green chillies with a touch of garlic & ginger
Hot
£5.95
Chilli Masala Chicken Tikka
This hot dish contains chef`s hot spices & green chillies with a touch of garlic & ginger
Hot
£6.50
Chilli Masala King Prawn
This hot dish contains chef`s hot spices & green chillies with a touch of garlic & ginger
Hot
£9.95
Chilli Masala Lamb
This hot dish contains chef`s hot spices & green chillies with a touch of garlic & ginger
Hot
£6.95
Chilli Masala Lamb Tikka
This hot dish contains chef`s hot spices & green chillies with a touch of garlic & ginger
Hot
£7.50
Chilli Masala Vegetable (V)
This hot dish contains chef`s hot spices & green chillies with a touch of garlic & ginger
Hot
£4.95
Dupiaza Chicken
Cooked with an abundance of fresh onions & tomatoes with fresh herbs & spices
£5.95
Dupiaza Chicken Tikka
Cooked with an abundance of fresh onions & tomatoes with fresh herbs & spices
£6.50
Dupiaza Lamb
Cooked with an abundance of fresh onions & tomatoes with fresh herbs & spices
£6.95
Dupiaza Lamb Tikka
Cooked with an abundance of fresh onions & tomatoes with fresh herbs & spices
£7.50
Dupiaza Vegetable (V)
Cooked with an abundance of fresh onions & tomatoes with fresh herbs & spices
£4.95
Jalfrezi Chicken
A truly classic dish, cooked with green chilli, onion, peppers with rice spice & herbs to make it a highly flavoured dish
£5.95
Jalfrezi Chicken Tikka
A truly classic dish, cooked with green chilli, onion, peppers with rice spice & herbs to make it a highly flavoured dish
£6.50
Jalfrezi King Prawn
A truly classic dish, cooked with green chilli, onion, peppers with rice spice & herbs to make it a highly flavoured dish
£9.95
Jalfrezi Lamb
A truly classic dish, cooked with green chilli, onion, peppers with rice spice & herbs to make it a highly flavoured dish
£6.95
Jalfrezi Lamb Tikka
A truly classic dish, cooked with green chilli, onion, peppers with rice spice & herbs to make it a highly flavoured dish
£7.50
Jalfrezi Vegetable (V)
A truly classic dish, cooked with green chilli, onion, peppers with rice spice & herbs to make it a highly flavoured dish
£4.95
Karahi Chicken
Cooked with herbs & spices, fried capsicums, onions & tomatoes
£5.95
Karahi Chicken Tikka
Cooked with herbs & spices, fried capsicums, onions & tomatoes
£6.50
Karahi King Prawn
Cooked with herbs & spices, fried capsicums, onions & tomatoes
£9.95
Karahi Lamb
Cooked with herbs & spices, fried capsicums, onions & tomatoes
£6.95
Karahi Lamb Tikka
Cooked with herbs & spices, fried capsicums, onions & tomatoes
£7.50
Karahi Vegetable (V)
Cooked with herbs & spices, fried capsicums, onions & tomatoes
£4.95
Kashmiri Chicken
Cooked with fruits - lychees & cream, very mild & fruity
Very mild
£5.95
Kashmiri Chicken Tikka
Cooked with fruits - lychees & cream, very mild & fruity
Very mild
£6.50
Kashmiri King Prawn
Cooked with fruits - lychees & cream, very mild & fruity
Very mild
£9.95
Kashmiri Lamb
Cooked with fruits - lychees & cream, very mild & fruity
Very mild
£6.95
Kashmiri Lamb Tikka
Cooked with fruits - lychees & cream, very mild & fruity
Very mild
£7.50
Kashmiri Vegetable (V)
Cooked with fruits - lychees & cream, very mild & fruity
Very mild
£4.95
Punjabi Chicken
This dish is mainly cooked with green chilli & chef`s hot spices
Hot
£5.95
Punjabi Chicken Tikka
This dish is mainly cooked with green chilli & chef`s hot spices
Hot
£6.50
Punjabi King Prawn
This dish is mainly cooked with green chilli & chef`s hot spices
Hot
£9.95
Punjabi Lamb
This dish is mainly cooked with green chilli & chef`s hot spices
Hot
£6.95
Punjabi Lamb Tikka
This dish is mainly cooked with green chilli & chef`s hot spices
Hot
£7.50
Punjabi Vegetable (V)
This dish is mainly cooked with green chilli & chef`s hot spices
Hot
£4.95
Razalla Chicken
This dish is cooked with chef`s hot spices & ginger
Hot
£5.95
Razalla Chicken Tikka
This dish is cooked with chef`s hot spices & ginger
Hot
£6.50
Razalla King Prawn
This dish is cooked with chef`s hot spices & ginger
Hot
£9.95
Razalla Lamb
This dish is cooked with chef`s hot spices & ginger
Hot
£6.95
Razalla Lamb Tikka
This dish is cooked with chef`s hot spices & ginger
Hot
£7.50
Razalla Vegetable (V)
This dish is cooked with chef`s hot spices & ginger
Hot
£4.95
Rogan Josh Chicken
A very popular classic dish. Cooked with onions, peppers, lots of tomatoes & lots of garlic. Garnished with fresh garlic & coriander
£5.95
Rogan Josh Chicken Tikka
A very popular classic dish. Cooked with onions, peppers, lots of tomatoes & lots of garlic. Garnished with fresh garlic & coriander
£6.50
Rogan Josh King Prawn
A very popular classic dish. Cooked with onions, peppers, lots of tomatoes & lots of garlic. Garnished with fresh garlic & coriander
£9.95
Rogan Josh Lamb
A very popular classic dish. Cooked with onions, peppers, lots of tomatoes & lots of garlic. Garnished with fresh garlic & coriander
£6.95
Rogan Josh Lamb Tikka
A very popular classic dish. Cooked with onions, peppers, lots of tomatoes & lots of garlic. Garnished with fresh garlic & coriander
£7.50
Rogan Josh Vegetable (V)
A very popular classic dish. Cooked with onions, peppers, lots of tomatoes & lots of garlic. Garnished with fresh garlic & coriander
£4.95
Saag Chicken
A spinach & mustard leaves based curry dish
£5.95
Saag Chicken Tikka
A spinach & mustard leaves based curry dish
£6.50
Saag Lamb
A spinach & mustard leaves based curry dish
£6.95
Saag Lamb Tikka
A spinach & mustard leaves based curry dish
£7.50
Saag Vegetable (V)
A spinach & mustard leaves based curry dish
£4.95
Pasanda Chicken
This mild dish is cooked with almonds, in a creamy sauce
Mild
£5.95
Pasanda Chicken Tikka
This mild dish is cooked with almonds, in a creamy sauce
Mild
£6.50
Pasanda King Prawn
This mild dish is cooked with almonds, in a creamy sauce
Mild
£9.95
Pasanda Lamb
This mild dish is cooked with almonds, in a creamy sauce
Mild
£6.95
Pasanda Lamb Tikka
This mild dish is cooked with almonds, in a creamy sauce
Mild
£7.50
Pasanda Vegetable (V)
This mild dish is cooked with almonds, in a creamy sauce
Mild
£4.95
Pathia Chicken
With Indian herbs, spices & tomatoes, garnished with coriander
Medium to hot
£5.95
Pathia Chicken Tikka
With Indian herbs, spices & tomatoes, garnished with coriander
Medium to hot
£6.50
Pathia Lamb
With Indian herbs, spices & tomatoes, garnished with coriander
Medium to hot
£6.95
Pathia Lamb Tikka
With Indian herbs, spices & tomatoes, garnished with coriander
Medium to hot
£7.50
Pathia Vegetable (V)
With Indian herbs, spices & tomatoes, garnished with coriander
Medium to hot
£4.95
Korma Chicken
A mild dish cooked with cream & coconut
Mild
£5.95
Korma Chicken Tikka
A mild dish cooked with cream & coconut
Mild
£6.50
Korma King Prawn
A mild dish cooked with cream & coconut
Mild
£9.95
Korma Lamb
A mild dish cooked with cream & coconut
Mild
£6.95
Korma Lamb Tikka
A mild dish cooked with cream & coconut
Mild
£7.50
Korma Vegetable (V)
A mild dish cooked with cream & coconut
Mild
£4.95
Methi Chicken
Subtly spiced this sauce cooked with fresh & dried fenugreek leaves giving a rich exotic aroma
£5.95
Methi Chicken Tikka
Subtly spiced this sauce cooked with fresh & dried fenugreek leaves giving a rich exotic aroma
£6.50
Methi Lamb
Subtly spiced this sauce cooked with fresh & dried fenugreek leaves giving a rich exotic aroma
£6.95
Methi Lamb Tikka
Subtly spiced this sauce cooked with fresh & dried fenugreek leaves giving a rich exotic aroma
£7.50
Methi Vegetable (V)
Subtly spiced this sauce cooked with fresh & dried fenugreek leaves giving a rich exotic aroma
£4.95
Vindaloo Chicken
A hot curry sauce cooked with Indian spices, herbs &  potatoes
Hot
£5.95
Vindaloo Chicken Tikka
A hot curry sauce cooked with Indian spices, herbs &  potatoes
Hot
£6.50
Vindaloo King Prawn
A hot curry sauce cooked with Indian spices, herbs &  potatoes
Hot
£9.95
Vindaloo Lamb
A hot curry sauce cooked with Indian spices, herbs &  potatoes
Hot
£6.95
Vindaloo Lamb Tikka
A hot curry sauce cooked with Indian spices, herbs &  potatoes
Hot
£7.50
Vindaloo Vegetable (V)
A hot curry sauce cooked with Indian spices, herbs &  potatoes
Hot
£4.95
Dupiaza King Prawn
Cooked with an abundance of fresh onions & tomatoes with fresh herbs & spices
£9.95
Methi King Prawn
Subtly spiced this sauce cooked with fresh & dried fenugreek leaves giving a rich exotic aroma
£9.95
Pathia King Prawn
With Indian herbs, spices & tomatoes, garnished with coriander
Medium to hot
£9.95
Saag King Prawn
A spinach & mustard leaves based curry dish
£9.95
Madras King Prawn
A hot curry sauce cooked with Indian spices & herbs
Hot
£9.95
Contact Us
Find Us
11 London Road, Grantham, NG316EY