About Us
Bombay Brasserie is a Indian takeaway in Grantham. Why don't you try our Puri or Biryani?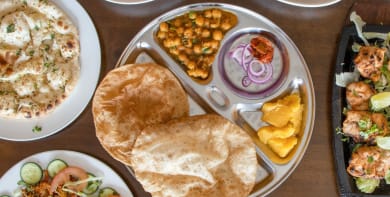 Reviews
261 reviews
Andrew
"Food was lovely, delivered early and very good value for money - will definitely order again.."
10/07/2021
J
"Our meal was delicious, hot, and tasty. We really enjoyed it."
07/07/2021
Kirsty
"Great meal, lovely and warm fantastic service thank you!"
05/07/2021
emily
"Excellent food fast delivery and food was piping hot!"
25/06/2021
Menu
Paneer Tikka Bhuna
Paneer tikka is a Punjabi dish. It is essentially made from paneer (cheese) tikka, which is served in a spiced sauce
£7.95
Murghi Kebab
Murghi kebab is a popular Afghan & Indian variety of kebab, made with chicken, chilli & herbs, also found in Pakistani cuisine. A variation of murghi kebab is found in Bangladeshi cuisine. They are also popular in Afghanistan & Azerbaijan
£9.95
Chana Saag
Chana saag is also known as chickpeas spinach curry, sometimes pronounced as chana saag. Chana saag is a very healthy Indian traditional dish !!!
£7.95
Gobi Chana
This dish is called gobi chana, aloo gobi is a dry Indian, Nepali & Pakistani cuisine dish made with chana, cauliflower & Indian spices
£7.95
Bombay Fish
Deliciously flavoured with a fresh collection of herbs & spices fried in vegetable oil & served on a hot sizzling pan
Hot
£9.95
Aloo Dum
Dum aloo is a very popular vegetarian dish from Kashmir, it is made from potatoes & eggs which are first deep fried, then cooked slowed at a low flame
£7.95
Shabji Murg
Is a type of curry which involves frying marinated pieces of chicken & vegetables in oil & spices to produce a dry & thick sauce
£9.95
Chana Gosht
Tender pieces of lamb cooked with chana (chickpeas), onions, garlic, green peppers & Indian herbs
£9.95
Murgi Paneer
Pieces of chicken cooked with paneer (Indian cheese), Indian herbs & spices in a rich medium sauce
Medium
£9.95
Korma Vegetable (V)
A mild dish cooked with cream & coconut
Mild
£4.95
Korma Chicken
A mild dish cooked with cream & coconut
Mild
£5.95
Korma Chicken Tikka
A mild dish cooked with cream & coconut
Mild
£6.50
Korma Lamb
A mild dish cooked with cream & coconut
Mild
£6.95
Korma Lamb Tikka
A mild dish cooked with cream & coconut
Mild
£7.50
Korma King Prawn
A mild dish cooked with cream & coconut
Mild
£9.95
Pasanda Vegetable (V)
This mild dish is cooked with almonds, in a creamy sauce
Mild
£4.95
Pasanda Chicken
This mild dish is cooked with almonds, in a creamy sauce
Mild
£5.95
Pasanda Chicken Tikka
This mild dish is cooked with almonds, in a creamy sauce
Mild
£6.50
Pasanda Lamb
This mild dish is cooked with almonds, in a creamy sauce
Mild
£6.95
Pasanda Lamb Tikka
This mild dish is cooked with almonds, in a creamy sauce
Mild
£7.50
Pasanda King Prawn
This mild dish is cooked with almonds, in a creamy sauce
Mild
£9.95
Masala Vegetable (V)
This dish is delicately blended in a subtle steaming cream sauce, specially prepared with herbs & spices. Garnished with fresh cream
£4.95
Masala Chicken
This dish is delicately blended in a subtle steaming cream sauce, specially prepared with herbs & spices. Garnished with fresh cream
£5.95
Masala Chicken Tikka
This dish is delicately blended in a subtle steaming cream sauce, specially prepared with herbs & spices. Garnished with fresh cream
£6.50
Masala Lamb
This dish is delicately blended in a subtle steaming cream sauce, specially prepared with herbs & spices. Garnished with fresh cream
£6.95
Masala Lamb Tikka
This dish is delicately blended in a subtle steaming cream sauce, specially prepared with herbs & spices. Garnished with fresh cream
£7.50
Masala King Prawn
This dish is delicately blended in a subtle steaming cream sauce, specially prepared with herbs & spices. Garnished with fresh cream
£9.95
Kashmiri Vegetable (V)
Cooked with fruits - lychees & cream, very mild & fruity
Very mild
£4.95
Kashmiri Chicken
Cooked with fruits - lychees & cream, very mild & fruity
Very mild
£5.95
Kashmiri Chicken Tikka
Cooked with fruits - lychees & cream, very mild & fruity
Very mild
£6.50
Kashmiri Lamb
Cooked with fruits - lychees & cream, very mild & fruity
Very mild
£6.95
Kashmiri Lamb Tikka
Cooked with fruits - lychees & cream, very mild & fruity
Very mild
£7.50
Kashmiri King Prawn
Cooked with fruits - lychees & cream, very mild & fruity
Very mild
£9.95
Malayan Vegetable (V)
A creamy curry, cooked with bananas
£4.95
Malayan Chicken
A creamy curry, cooked with bananas
£5.95
Malayan Chicken Tikka
A creamy curry, cooked with bananas
£6.50
Malayan Lamb
A creamy curry, cooked with bananas
£6.95
Malayan Lamb Tikka
A creamy curry, cooked with bananas
£7.50
Malayan King Prawn
A creamy curry, cooked with bananas
£9.95
Curry Vegetable (V)
Cooked with onions, peppers & garnished with fresh coriander
£4.95
Curry Chicken
Cooked with onions, peppers & garnished with fresh coriander
£5.95
Curry Chicken Tikka
Cooked with onions, peppers & garnished with fresh coriander
£6.50
Curry Lamb
Cooked with onions, peppers & garnished with fresh coriander
£6.95
Curry Lamb Tikka
Cooked with onions, peppers & garnished with fresh coriander
£7.50
Curry King Prawn
Cooked with onions, peppers & garnished with fresh coriander
£9.95
Bhuna Vegetable (V)
A combination of spices & herbs fried together to provide a dish of medium strength. Has a thick consistency. Garnished with tomatoes
Medium
£4.95
Bhuna Chicken
A combination of spices & herbs fried together to provide a dish of medium strength. Has a thick consistency. Garnished with tomatoes
Medium
£5.95
Bhuna Chicken Tikka
A combination of spices & herbs fried together to provide a dish of medium strength. Has a thick consistency. Garnished with tomatoes
Medium
£6.50
Bhuna Lamb
A combination of spices & herbs fried together to provide a dish of medium strength. Has a thick consistency. Garnished with tomatoes
Medium
£6.95
Bhuna Lamb Tikka
A combination of spices & herbs fried together to provide a dish of medium strength. Has a thick consistency. Garnished with tomatoes
Medium
£7.50
Bhuna King Prawn
A combination of spices & herbs fried together to provide a dish of medium strength. Has a thick consistency. Garnished with tomatoes
Medium
£9.95
Karahi Vegetable (V)
Cooked with herbs & spices, fried capsicums, onions & tomatoes
£4.95
Karahi Chicken
Cooked with herbs & spices, fried capsicums, onions & tomatoes
£5.95
Karahi Chicken Tikka
Cooked with herbs & spices, fried capsicums, onions & tomatoes
£6.50
Karahi Lamb
Cooked with herbs & spices, fried capsicums, onions & tomatoes
£6.95
Karahi Lamb Tikka
Cooked with herbs & spices, fried capsicums, onions & tomatoes
£7.50
Karahi King Prawn
Cooked with herbs & spices, fried capsicums, onions & tomatoes
£9.95
Balti Vegetable (V)
This dish is specially prepared. Richly seasoned & consisting of onion, peppers, garlic & ginger
£4.95
Balti Chicken
This dish is specially prepared. Richly seasoned & consisting of onion, peppers, garlic & ginger
£5.95
Balti Chicken Tikka
This dish is specially prepared. Richly seasoned & consisting of onion, peppers, garlic & ginger
£6.50
Balti Lamb
This dish is specially prepared. Richly seasoned & consisting of onion, peppers, garlic & ginger
£6.95
Balti Lamb Tikka
This dish is specially prepared. Richly seasoned & consisting of onion, peppers, garlic & ginger
£7.50
Balti King Prawn
This dish is specially prepared. Richly seasoned & consisting of onion, peppers, garlic & ginger
£9.95
Rogan Josh Vegetable (V)
A very popular classic dish. Cooked with onions, peppers, lots of tomatoes & lots of garlic. Garnished with fresh garlic & coriander
£4.95
Rogan Josh Chicken
A very popular classic dish. Cooked with onions, peppers, lots of tomatoes & lots of garlic. Garnished with fresh garlic & coriander
£5.95
Rogan Josh Chicken Tikka
A very popular classic dish. Cooked with onions, peppers, lots of tomatoes & lots of garlic. Garnished with fresh garlic & coriander
£6.50
Rogan Josh Lamb
A very popular classic dish. Cooked with onions, peppers, lots of tomatoes & lots of garlic. Garnished with fresh garlic & coriander
£6.95
Rogan Josh Lamb Tikka
A very popular classic dish. Cooked with onions, peppers, lots of tomatoes & lots of garlic. Garnished with fresh garlic & coriander
£7.50
Rogan Josh King Prawn
A very popular classic dish. Cooked with onions, peppers, lots of tomatoes & lots of garlic. Garnished with fresh garlic & coriander
£9.95
Dupiaza Vegetable (V)
Cooked with an abundance of fresh onions & tomatoes with fresh herbs & spices
£4.95
Dupiaza Chicken
Cooked with an abundance of fresh onions & tomatoes with fresh herbs & spices
£5.95
Dupiaza Chicken Tikka
Cooked with an abundance of fresh onions & tomatoes with fresh herbs & spices
£6.50
Dupiaza Lamb
Cooked with an abundance of fresh onions & tomatoes with fresh herbs & spices
£6.95
Dupiaza Lamb Tikka
Cooked with an abundance of fresh onions & tomatoes with fresh herbs & spices
£7.50
Dupiaza King Prawn
Cooked with an abundance of fresh onions & tomatoes with fresh herbs & spices
£9.95
Methi Vegetable (V)
Subtly spiced this sauce cooked with fresh & dried fenugreek leaves giving a rich exotic aroma
£4.95
Methi Chicken
Subtly spiced this sauce cooked with fresh & dried fenugreek leaves giving a rich exotic aroma
£5.95
Methi Chicken Tikka
Subtly spiced this sauce cooked with fresh & dried fenugreek leaves giving a rich exotic aroma
£6.50
Methi Lamb
Subtly spiced this sauce cooked with fresh & dried fenugreek leaves giving a rich exotic aroma
£6.95
Methi Lamb Tikka
Subtly spiced this sauce cooked with fresh & dried fenugreek leaves giving a rich exotic aroma
£7.50
Methi King Prawn
Subtly spiced this sauce cooked with fresh & dried fenugreek leaves giving a rich exotic aroma
£9.95
Pathia Vegetable (V)
With Indian herbs, spices & tomatoes, garnished with coriander
Medium to hot
£4.95
Pathia Chicken
With Indian herbs, spices & tomatoes, garnished with coriander
Medium to hot
£5.95
Pathia Chicken Tikka
With Indian herbs, spices & tomatoes, garnished with coriander
Medium to hot
£6.50
Pathia Lamb
With Indian herbs, spices & tomatoes, garnished with coriander
Medium to hot
£6.95
Pathia Lamb Tikka
With Indian herbs, spices & tomatoes, garnished with coriander
Medium to hot
£7.50
Pathia King Prawn
With Indian herbs, spices & tomatoes, garnished with coriander
Medium to hot
£9.95
Saag Vegetable (V)
A spinach & mustard leaves based curry dish
£4.95
Saag Chicken
A spinach & mustard leaves based curry dish
£5.95
Saag Chicken Tikka
A spinach & mustard leaves based curry dish
£6.50
Saag Lamb
A spinach & mustard leaves based curry dish
£6.95
Saag Lamb Tikka
A spinach & mustard leaves based curry dish
£7.50
Saag King Prawn
A spinach & mustard leaves based curry dish
£9.95
Madras Vegetable (V)
A hot curry sauce cooked with Indian spices & herbs
Hot
£4.95
Madras Chicken
A hot curry sauce cooked with Indian spices & herbs
Hot
£5.95
Madras Chicken Tikka
A hot curry sauce cooked with Indian spices & herbs
Hot
£6.50
Madras Lamb
A hot curry sauce cooked with Indian spices & herbs
Hot
£6.95
Madras Lamb Tikka
A hot curry sauce cooked with Indian spices & herbs
Hot
£7.50
Madras King Prawn
A hot curry sauce cooked with Indian spices & herbs
Hot
£9.95
Dansak Vegetable (V)
A thick sauce cooked with lentils, contains chef`s fairly hot spices. Garnished with coriander
Hot
£4.95
Dansak Chicken
A thick sauce cooked with lentils, contains chef`s fairly hot spices. Garnished with coriander
Hot
£5.95
Dansak Chicken Tikka
A thick sauce cooked with lentils, contains chef`s fairly hot spices. Garnished with coriander
Hot
£6.50
Dansak Lamb
A thick sauce cooked with lentils, contains chef`s fairly hot spices. Garnished with coriander
Hot
£6.95
Dansak Lamb Tikka
A thick sauce cooked with lentils, contains chef`s fairly hot spices. Garnished with coriander
Hot
£7.50
Dansak King Prawn
A thick sauce cooked with lentils, contains chef`s fairly hot spices. Garnished with coriander
Hot
£9.95
Ceylon Vegetable (V)
A hot curry sauce cooked with coconut powder Indian spices & herbs
Hot
£4.95
Ceylon Chicken
A hot curry sauce cooked with coconut powder Indian spices & herbs
Hot
£5.95
Ceylon Chicken Tikka
A hot curry sauce cooked with coconut powder Indian spices & herbs
Hot
£6.50
Ceylon Lamb
A hot curry sauce cooked with coconut powder Indian spices & herbs
Hot
£6.95
Ceylon Lamb Tikka
A hot curry sauce cooked with coconut powder Indian spices & herbs
Hot
£7.50
Ceylon King Prawn
A hot curry sauce cooked with coconut powder Indian spices & herbs
Hot
£9.95
Chilli Masala Vegetable (V)
This hot dish contains chef`s hot spices & green chillies with a touch of garlic & ginger
Hot
£4.95
Chilli Masala Chicken
This hot dish contains chef`s hot spices & green chillies with a touch of garlic & ginger
Hot
£5.95
Chilli Masala Chicken Tikka
This hot dish contains chef`s hot spices & green chillies with a touch of garlic & ginger
Hot
£6.50
Chilli Masala Lamb
This hot dish contains chef`s hot spices & green chillies with a touch of garlic & ginger
Hot
£6.95
Chilli Masala Lamb Tikka
This hot dish contains chef`s hot spices & green chillies with a touch of garlic & ginger
Hot
£7.50
Chilli Masala King Prawn
This hot dish contains chef`s hot spices & green chillies with a touch of garlic & ginger
Hot
£9.95
Jalfrezi Vegetable (V)
A truly classic dish, cooked with green chilli, onion, peppers with rice spice & herbs to make it a highly flavoured dish
£4.95
Jalfrezi Chicken
A truly classic dish, cooked with green chilli, onion, peppers with rice spice & herbs to make it a highly flavoured dish
£5.95
Jalfrezi Chicken Tikka
A truly classic dish, cooked with green chilli, onion, peppers with rice spice & herbs to make it a highly flavoured dish
£6.50
Jalfrezi Lamb
A truly classic dish, cooked with green chilli, onion, peppers with rice spice & herbs to make it a highly flavoured dish
£6.95
Jalfrezi Lamb Tikka
A truly classic dish, cooked with green chilli, onion, peppers with rice spice & herbs to make it a highly flavoured dish
£7.50
Jalfrezi King Prawn
A truly classic dish, cooked with green chilli, onion, peppers with rice spice & herbs to make it a highly flavoured dish
£9.95
Vindaloo Vegetable (V)
A hot curry sauce cooked with Indian spices, herbs &  potatoes
Hot
£4.95
Vindaloo Chicken
A hot curry sauce cooked with Indian spices, herbs &  potatoes
Hot
£5.95
Vindaloo Chicken Tikka
A hot curry sauce cooked with Indian spices, herbs &  potatoes
Hot
£6.50
Vindaloo Lamb
A hot curry sauce cooked with Indian spices, herbs &  potatoes
Hot
£6.95
Vindaloo Lamb Tikka
A hot curry sauce cooked with Indian spices, herbs &  potatoes
Hot
£7.50
Vindaloo King Prawn
A hot curry sauce cooked with Indian spices, herbs &  potatoes
Hot
£9.95
Punjabi Vegetable (V)
This dish is mainly cooked with green chilli & chef`s hot spices
Hot
£4.95
Punjabi Chicken
This dish is mainly cooked with green chilli & chef`s hot spices
Hot
£5.95
Punjabi Chicken Tikka
This dish is mainly cooked with green chilli & chef`s hot spices
Hot
£6.50
Punjabi Lamb
This dish is mainly cooked with green chilli & chef`s hot spices
Hot
£6.95
Punjabi Lamb Tikka
This dish is mainly cooked with green chilli & chef`s hot spices
Hot
£7.50
Punjabi King Prawn
This dish is mainly cooked with green chilli & chef`s hot spices
Hot
£9.95
Razalla Vegetable (V)
This dish is cooked with chef`s hot spices & ginger
Hot
£4.95
Razalla Chicken
This dish is cooked with chef`s hot spices & ginger
Hot
£5.95
Razalla Chicken Tikka
This dish is cooked with chef`s hot spices & ginger
Hot
£6.50
Razalla Lamb
This dish is cooked with chef`s hot spices & ginger
Hot
£6.95
Razalla Lamb Tikka
This dish is cooked with chef`s hot spices & ginger
Hot
£7.50
Razalla King Prawn
This dish is cooked with chef`s hot spices & ginger
Hot
£9.95
Biryani Vegetable (V)
A rice based dish, cooked with any of the following in basmati rice, topped with an omelette & served with a separate vegetable sauce
£5.95
Biryani Chicken
A rice based dish, cooked with any of the following in basmati rice, topped with an omelette & served with a separate vegetable sauce
£7.95
Biryani Chicken Tikka
A rice based dish, cooked with any of the following in basmati rice, topped with an omelette & served with a separate vegetable sauce
£8.95
Biryani Lamb
A rice based dish, cooked with any of the following in basmati rice, topped with an omelette & served with a separate vegetable sauce
£8.95
Biryani Lamb Tikka
A rice based dish, cooked with any of the following in basmati rice, topped with an omelette & served with a separate vegetable sauce
£9.95
Biryani King Prawn
A rice based dish, cooked with any of the following in basmati rice, topped with an omelette & served with a separate vegetable sauce
£12.95
Plain Paratha
A disk of unleavened bread, garnished with ghee
£1.95
Keema Paratha
A disk of unleavened bread, filled with minced lamb, garnished with ghee & cooked on cast iron plate
£2.25
Aloo Paratha
A disk of unleavened bread, filled with potato
£2.25
Vegetable Paratha
A disk of unleavened bread filled with fresh vegetables, garnished with ghee & cooked on a cast iron plate
£2.25
Chapatti
A disk of unleavened bread, ideal to dip into your choice of curry
£1.50
Tandoori Roti
A large chapati baked in the tandoor
£1.75
Pickle Tray
Mint sauce, mango chutney & onion salad
£1.50
Vegetarian Set Meal for 2 People
2 popadoms & chutney
Aloo chaat & onion bhaji
Vegetable bhuna (main)
Vegetable korma (main)
Bomaby aloo (side dish)
Pilau rice OR naan
£22.50
Mixed Set Meal for 2 People
2 popadoms & chutney
Meat samosa & chicken pakora
Chicken tikka masala (main)
Lamb bhuna (main)
Bombay aloo (side dish)
Pilau rice OR naan
£25.50
Contact Us
Find Us
11 London Road, Grantham, NG316EY